Because of how dangerous the world is become, it is now more important than ever to increase security.
An armored steel plate would better be Armor protection plate if it's the only barrier between a person and a bullet traveling at 925 meters per second. Whether you're constructing a panic room for a superstar, a limousine for a business VIP, or an armored vehicle to carry military troops, Armor is a bulletproof steel with a demonstrated ability to defend lives and property.
The security sector has seen significant technical advancements, and the steel business is by no means exempt from this. Armor-plated steel is now a common product used worldwide to guard against explosives and ballistic projectiles.
In Protection Steels Industry, Industeel is a first-class producer of ballistic steel  protection plates. We are providing armor steel plates ranging from 2.5 mm thickness to 400 mm thickness. We are the only mill in the world providing the oil quenched armor plates with such higher thicknesses. Thanks to our efficient and soft quenching process, eliminating residual stress, we guarantee quiet plates with:
No Deformation During And After Cutting
Low Residual Magnetism
All Protection Steel Plates can be bend, machined, welded, and cut. Cutting can be done with (Laser, plasma and water-jet) devices.
KANAS GROUP can supply Industeel Armor Steel plates from local Dubai stocks (stored at JAFZA, Dubai) and can supply complete kits / produce components with laser cutting and also offer welding / bending on these components.
Mars brand is a family of steel grades specially designed for military and civil ballistic protection. Its patented chemical composition provides high protection, often beyond technical specifications, with significantly lower weights.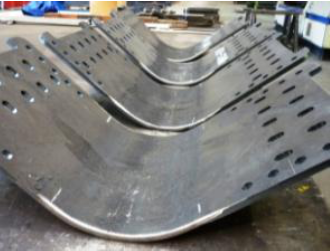 Protection 400 Armor Steel Plates
Steel plates with the classification Protection 400 are designed to provide strong protection against pressures brought on by explosions and blasts.
The material was created specifically to withstand heavy explosives and munitions thanks to a combination of enhanced hardness and strength that produces exceptional ballistic qualities. The direct quenching process that the steel undergoes not only makes it extremely hard and robust, but also encourages great dimensional correctness and superb flatness. It should be noted that the designation's 400 represents the material's typical Brinell Hardness rating.
Applications :
Military Vehicles & associative equipment
Security vehicles and cars
Walls, doors and window frames
Bank Counters and Bank Vaults
Mechanical Properties of Protection 400
GRADE

YIELD STRENGTH MPA

TENSILE STRENGTH MPA

ELONGATION A

HARDNESS

IMPACT STRENGTH (LONGITUDINAL)
Chemical Composition of Protection 400
Protection 500 Armor Steel Plates
Protection 500 is an armor steel plate that offers greater resistance to the kinetic energy impact of various airborne ballistics, making it more suited for protection against projectile weaponry.
The material may be welded using conventional welding techniques and is offered as heavy plates and cut sheets, however heat treatment is not advised. The plates are provided in compliance with EN 10 021 and can be plasma- or laser-cut. The designation's number represents the material's average Brinell Hardness value.
The following applications are perfect for Protection 500, a quenched hardenable steel with exceptional high yield and tensile qualities.
Applications:
Walls, doors and window frames
Security vehicles and cars
Bank Counters and Bank Vaults
Military Vehicles & associative equipment
Mechanical Properties of Protection 500
GRADE

YIELD STRENGTH MPA

TENSILE STRENGTH MPA

ELONGATION A

HARDNESS

IMPACT STRENGTH (LONGITUDINAL)
Chemical Composition of Protection 500
At Kanas Group we have over 20 years of insights and experience in how to best use  of armor steel plates in a wide variety of applications.  You can view our armour product division or if you have any other inquiries please email at
or use our contact us form.