Diplomats, Embassies, the United Nations, the European Union, Governments, classic car owners, and other individuals from all over the globe who want a prestigious car flag pole for specialized usage in VIP automobiles utilize car flag poles for official cars.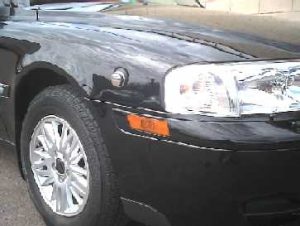 "Exclusive" Fixed Car Flag Pole for Diplomatic Car:
Embassies, the UN, governments, owners of vintage cars, and individuals from all over the world who choose a fixed vehicle flagpole made of upscale polished stainless steel employ the diplomatic car flag.
Stainless steel fixed car flag pole dependable and resistant to harsh weather. Installation and removal are simple. Both non-armored and armored vehicles may use it. Depending on the number and height requirements, customization is possible. For prompt delivery, there is stock available in the UAE.
Pre-Mounted Car Flagpole Holder On Left Or Right Front Fender
Bayonet Coupling Makes Flagpole Easy To Mount And Demount On Fender
Reinforcing Plate Inside Fender
2 years warranty for manufacturing defects
Diplomat Car Flagpole Can Be Mounted In Different Angles
Washers With 10,20 Or 30 Degrees Are Included
Washers With 45 Degrees Are Available And Can Be Ordered Extra
Car Flag Pole Holder Covered By Decorative Cover Plate When Not In Use
Equipped With SAF (Safety Shock-Absorbing Function) This Means That Flagpole Will Be Folded Back When It Hit By 5 Kg Strong Force At The Top Of The Flagpole. This To Reduce Injuries In An Eventually Collision. This Also Means That Maximum Speed For The Flagpole Is 120 Km/Hour. Otherwise Flag Weight And Windflow Can Get The Flagpole To Folded Back.
Also Available Without SAF For Unlimited Speed. Please Note – "For Diplomatic Use Only"
Exclusive Made Of Polished Stainless Steel
Gold Coated Flagpole Knob (Options Available)
Telescopic Car Flagpole
Min Height 390 Mm (15″)
Max Height 680 Mm (27″)
Flag Size Up To Max 35×50 Cm.
KANAS Flagpole Specifications